COVID-19 Protocols in Place
Updated November 24, 2020
Pro Shop
Tee Times 10 minutes apart
3 golfer limit in the Pro Shop
Golfers to swipe their own credit cards
No handshakes, fist bumps or any physical contact
All employees to have their temperature checked and logged at the beginning of their shift by the Manager On Duty
Surfaces, door handles, etc. to be disinfected and sanitized regularly throughout the day
Sneeze Guard installed in Pro Shop
Interior doors propped open
Golf Outings/Shotgun starts are now allowed but limited

All Golfers must practice Social Distancing at all times and will be asked to leave the property if observed violating this standard
Golf Course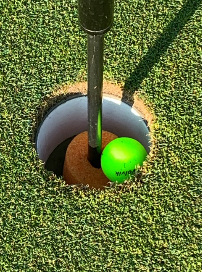 Pool Noodles have been added to the bottom of the flagsticks to stop the ball from falling into the bottom of the hole
Leave pin in the cup
Bunker rakes removed from golf course
All water coolers and ball washing stations have been removed
DO NOT TOUCH THE FLAGSTICK!
Golf Carts
Will be disinfected before each use utilizing EPA Approved Virucide Maxim Non Acid Disinfectant Cleaner
2 golfers per golf cart
Café
Limited Hours
No Seating
Limited Menu
Café Hours
9am – 1 hour after sunset daily
Café Interior
No inside seating
Limited to 7 Guests waiting in line for To-Go orders
Guests in line must stand on the "Stand Here" floor stickers
Patio seating limited to 10 per table
6′ of social distancing must be maintained between tables
Café Menu
Menu to be printed on copy paper and disposed after 1 use
All drinks & food served "to-go" only, nothing may be consumed inside
Café Operating Protocols
Employees to wear PPE (masks & gloves)
All employees to have their temperature checked and logged at the beginning of their shift by the Manager On Duty
All utensils, condiments, napkins, etc. removed from Café floor, only disposable items used and dispensed by employees
Hand sanitizer provided for guests & employees
An employee will be dedicated to disinfecting surfaces throughout the facility throughout the day. It will be his/her primary task
Thank you for your continued support and patronage. Please everyone be safe.
The Management Team at Devou Golf & Event Center